Welcome
We have developed this website with you in mind.
Specifically, we seek to be a resource for:
Churches seeking to learn more about how to minister to Muslims
Individuals who have personal contact with Muslims
The menu bar will help you navigate around the site. Specific information regarding the purpose of COMMA, its history and leadership, as well as information on how to join COMMA can be found on the About page. If you have a Facebook account, 'like' our Facebook page where we will post links to new articles as they are added to the website.
Gender-based violence is still one of the most prevalent issues in Turkey today. According to the Turkish Statistical Institute, 2,337 women have been murdered by husbands, fathers, or sons in the last ten years – 78 lives were claimed in February of this year. Rape and child marriages are … [Read More...]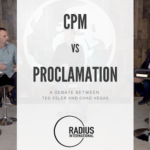 Video of a debate between Chad Vegas and Ted Esler at Radius International. Click here to view the video and download their papers. … [Read More...]