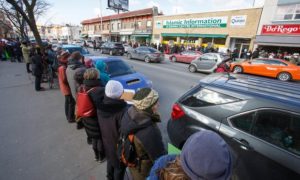 Hundreds across Canada gathered around mosques to form protective barriers – described by organisers as "human shields" and "rings of peace" – as Muslims in the country marked their first Friday prayers since a gunman shot dead six men who were praying at a Quebec mosque.
"No Canadian should be afraid to go to their house of worship to pray," Yael Splansky, the rabbi behind the effort to set up "rings of peace" around Toronto mosques told the Canadian Press. "It's a terrifying scene. Imagine people of faith going to pray in peace, to pray for peace, and to be at risk. Houses of worship are sacred and must be protected."
'Islamophobia killed Canadians': anti-Muslim rhetoric blamed in Québec attack
Read more
Hundreds of people in Toronto – many of them belonging to local synagogues, churches and temples – stood shoulder-to-shoulder outside seven of the city's mosques on Friday during midday prayers. In Ottawa and Edmonton, similar "rings of peace" were set up around local mosques.
Click here for full article: