Ministering in a Muslim Context On-Line Course
Dates: April 2-May 11
Description:
Ministering in a Muslim Context is an introductory course designed for anyone who is now or will soon be working with Muslim people, either in a Muslim majority context or in places like the UK or the U.S. where Muslims are a minority. This course will run a total of five weeks (including the Course Orientation) along with an optional fifth week. The course will cover these main topics:
Course Orientation 
Week 1 – Introduction to Islam
Week 2 – Approaches to Muslims
Week 3 – Islamic Spirituality
Week 4 – Cultural Barriers for Muslims.
For those who are interested and have time, there will also be a bonus, optional Week 5 entitled The Impact of Islamic Fundamentalism on the Muslim World. In this optional week we will look at how Islam fits into the larger context of our world.
Click here to register
---
MBB Conference: Crossing the Divide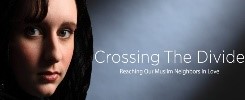 Dates: April 27 – 28
Location: Hunters Glen Baptist Church, Plano, TX
Click here for more details
---
Crescent Project Without Borders – A Conference for Christian Women
Dates: May 4-5
Location: Sioux Falls, SD
Click here to register
---
30 Days of Prayer for the Muslim World
Date: May 15-June 14, 2018
Get the booklets here
Come join millions of Christians worldwide who since 1993 regularly participate in this largest ongoing international call to Christians to pray for the Muslim world during the annual Ramadan. Ramadan is Islam's important annual month of fasting and religious observation; in 2018 it started on May 15.
While we celebrate 25 years in 2018, this marks the 27th time (Muslims use a shorter lunar calendar year) that Christians around the world will join together to intentionally but respectfully learn about and pray for our world's Muslim neighbors–with faith, hope and love–during their 30 days of Ramadan.
---
Legacy Conference 2018: Liberty to the Captives
Dates: May 31 – June 2
Location: Dearborn, MI
Register HERE
---

JFM Annual Banquet
Date: Saturday June 9
Time: 3pm
Register here
---
Sahara Challenge 2018
Dates: Tues. June 19 – Sat. June 23
Location: Bethel University, Saint Paul, MN
Register HERE
---
Dates: Mon. July 9 – Fri. July 13
Location: Boulder, CO
Register HERE
---
Dates: Mon. August 13 – Fri. August 17
Location: Edmonton, Alberta, Canada
Register HERE
---
Two days; all DMM. David Watson & Jerry Trousdale at the same 2-day event this Spring, in Chicago.
Dates: September 6-8
Location: Compass Church, 520 E. Roosevelt Road, Wheaton, IL
Click here for more information
---
2018 Refugee Highway Partnership Roundtable
Dates: October 24-26
Location: Parkview Community Church, Glen Ellyn, IL
Registration coming soon