Missions Wisdom Shared: 50 Years of Invaluable Content in One Resource
For nearly half a century, Evangelical Missions Quarterly (EMQ) has served the missionary community worldwide by providing relevant, engaging, thoughtful articles on a vast array of ministry foci—leadership, translation, contextualization, business as mission, member care, length of service, biblical applications, etc. EMQ continues to remain one of the top journals for missiologists, and is for many thought-practitioners, the premier journal for the North American mission community.
Each quarterly issue contains 10-12 articles that you won't find elsewhere by mission and church leaders and experienced cross-cultural workers around the world. EMQ is published by the Billy Graham Center at Wheaton College and is available both in print and online.
If you don't yet subscribe, we invite you to do so today at www.emqonline.com!
Join the EMQ Community and stay up-to-date on the latest in missions by "liking" our Facebook page here: http://www.facebook.com/EvangelicalMissionsQuarterly
Our July issue features an excellent line-up of articles: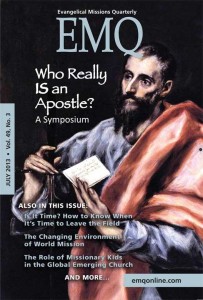 Evangelical Missions Quarterly Articles
Is It Time? How to Know When It's Time to Leave the Field
By Richard and Evelyn Hibbert

Conscientiousness and commitment are vital qualities of effective Christian workers, but over-conscientious workers do not listen to their limitations as humans.

The Monkey and the Fish

By Song (Joseph) Cho

Through describing his own personal journey, the author shares how God's people can do their best work, following the leading of the Holy Spirit.

Church-planting Metrics: Measure What's Important

By Kenn Oke

A method for developing a measurement instrument that can guide leaders to define the end goal and that provides church planters with a graphic picture of progress.

The Changing Environment of World Mission: Six Areas of Importance

By Derek Seipp

Deculturation is speeding up. And it's happening worldwide. We must, therefore, ask ourselves, Is the mission industry keeping up with these changes?

Role of Missionary Kids in the Local Emerging Church

By David Hines

MKs' personalities, values, and experiences reflect the values of the emerging Church. MKs, in fact, are in a unique position to contribute to the local church and shape its vision.

The Global Church: A Journey toward the Other

By Doris Gomez

By entering into a kenotic relationship with the stranger, we extend a true welcome. A better model for doing mission.

An Urgent Plea for Disciplistic Baptism in the Buddhist Context

By Daniel Daesoon Kim

The supreme task given to the Church is the disciplization of all nations. Each generation ought to discern its unique context and how to implement disciplistic baptism.

The Efficiency of Storying

By Cameron D. Armstrong

A defense of how Chronological Bible Storying produces true and faithful disciples who may or may not hunger for literate depth.

Symposium: Who Really Is an Apostle?

By Nathan Rasmussen, with responses from: Jude Hama,

JR Woodward, Doug Beacham, and Jessica Fick

Perhaps it is time to reconsider what we are trying to read into the office of an apostle. Rasmussen proposes a new view of the term and four others respond.

Contextual Teaching: Changes in Content & Culture

By Phil Thornton

Being effective in fulfilling the call to cross-cultural church leadership training will require that we package and deliver the message in what for us is the uncharted waters of oral learning.

A Second Look: Reflections on "Arab Spring"

By Gary Corwin

In the 20/30 Gap: Master-less Plans of Global Evangelism

By Cody C. Lorance

Voices in the Local Church: A House of Prayer for All People

By Kelvin M. Smith

Excellence in Missions: Dreams and Visions: A Biblical Pattern of Divine Encounter for Muslims

By Rick Kronk
Source: Evangelical Missions Quarterly (EMQ) Website