Registration is now open! Click here to register.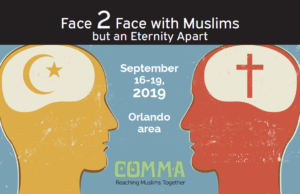 2019 COMMA Consultation – Face 2 Face with Muslims but an Eternity Apart
The Muslim population of North America is growing! In some pockets it is not uncommon to come face to face with Muslims on a daily basis. Yet even with this kind of contact many Christians are not engaging Muslims in conversations about Christ and their eternal destiny. Also, many churches and missions agencies are only beginning to see the opportunities to share with Muslims domestically. If you'd like to be better equipped to reach Muslims and to train others in North America as well, then come to COMMA 2019 where we will be challenged and encouraged by plenary speakers and workshops to get face to face with Muslims, so that they can spend eternity in heaven.
Who should attend:
Muslim ministry practitioners
Pastoral staff who have a congregation that has contact with Muslims
Students interested in long-term service among Muslims
Missionaries on home assignment
---
Plenary Session titles:
Concert of Prayer for Muslims and Muslim Ministry
Why Reach Muslims in America?
Muslim Ministry in the Latino Community
Panel Discussion: The Spectrum of Approaches in Muslim Ministry
The Importance of Engaging Islamic Theology
History of Women in Muslim Ministry
Viewing Islam through Muslim Eyes
Becoming Part of the U.S. Mosaic: The Agenda Behind Muslim Organizations in America
Summary – Face 2 Face: Where Do We Go from Here?
Workshops:
Paradigms in Evangelism
Dialogue as a Contributor to Developing Civil Society
How Latino Churches Can Get Involved in Reaching Out to Muslims
Trophy Syndrome
Contextualized Parenting
Understanding the Process of Conversion
Bible Study in a Mosque
Cultural Integration
Discipling Iranian-American Children–and Their Parents
How Are Local Churches Reaching Muslims?
---
Conference Pricing:
Single: $299 (Single, June 1 – August 31, 2019)
Married couple: $250 each (Per person married couple rate June 1 – August 31, 2019)
Student: $199.00 (Full-time (12+ semester hours) college or seminary student)
Exhibitor: $500.00 (Includes one conference registration and one exhibitor's table)
Exhibitor Spouse: $175.00 (Only for spouse of person who has paid exhibitor rate)
NOTE: Double up your travel dollar by attending both the COMMA Consultation (September 16-19) and the Missio Nexus Mission Leaders conference (September 19-21), both held in Orlando!
---
---
Late and walk-in: $325 each (September 1 onward, no married couple rate)
NOTE: All rates include the conference and meals only (Tuesday lunch and dinner, Wednesday lunch and dinner, Thursday lunch). Hotel and travel not included – see the Accommodations and Travel tabs on the registration page for partner hotels and other travel information.
Visit our registration page to register and for other details.