Online registration is now closed. We will be accepting walk-in registrations at the door:
-Full walk-in registration: $325
-One day rate: $125
We will accept check, cash, and credit/debit.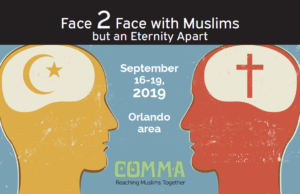 2019 COMMA Consultation – Face 2 Face with Muslims but an Eternity Apart
The Muslim population of North America is growing! In some pockets it is not uncommon to come face to face with Muslims on a daily basis. Yet even with this kind of contact many Christians are not engaging Muslims in conversations about Christ and their eternal destiny. Also, many churches and missions agencies are only beginning to see the opportunities to share with Muslims domestically. If you'd like to be better equipped to reach Muslims and to train others in North America as well, then come to COMMA 2019 where we will be challenged and encouraged by plenary speakers and workshops to get face to face with Muslims, so that they can spend eternity in heaven.
Who should attend:
Muslim ministry practitioners
Pastoral staff who have a congregation that has contact with Muslims
Students interested in long-term service among Muslims
Missionaries on home assignment
---
Plenary Session titles:
Concert of Prayer for Muslims and Muslim Ministry
The Importance of Engaging Islamic Theology
Muslim Ministry in the Latino Community
Panel Discussion: The Spectrum of Approaches in Muslim Ministry
Why Reach Muslims in America?
History of Women in Muslim Ministry
Viewing Islam through Muslim Eyes
Becoming Part of the U.S. Mosaic: The Agenda Behind Muslim Organizations in America
Summary – Face 2 Face: Where Do We Go from Here?
Workshops:
Paradigms in Evangelism
Dialogue as a Contributor to Developing Civil Society
How Latino Churches Can Get Involved in Reaching Out to Muslims
Understanding the Process of Conversion
Bible Study in a Mosque
Cultural Integration
Discipling Iranian-American Children–and Their Parents
---
Event Location:
Pioneers-USA Campus
10123 William Carey Dr.
Orlando, FL 32832
(407) 382-6000
---
Contact:
Kevin Stuhlmann, COMMA Administrator
(630-282-4767
---
Refund policy:
Requests for registration cancellation/refund will be accepted until August 15, 2019. A full refund will be issued. Email commanetwork@gmail.com with request.
After August 15, 2019, no refunds will be issued except in cases of emergency.
NOTE: This is only for the conference; you will need to cancel hotel reservations separately with the hotel.
---
Accommodations:
Special COMMA rates have expired, but we recommend these two hotels:
Holiday Inn Express & Suites – Orlando/Lake Nona Area
10115 William Carey Drive, Orlando, FL 32832
407-207-7001
Right next door to Pioneers campus (walking distance)
Complimentary breakfast included
Complimentary shuttle from airport – call front desk at number above upon arrival
Country Inn & Suites by Radisson – Orlando Airport
5440 Forbes Place, Orlando, FL 32812
407-856-8896
NOTE: This hotel is 9 miles / 20 minutes from the conference location. We are unable to provide shuttle service. Please reserve this hotel ONLY if you have your own means of transportation from the hotel to the conference center.
Complimentary breakfast included
---
Travel Information:
The Pioneers campus (10123 William Carey Dr. / Orlando, FL 32832) is located less than 15 minutes from Orlando International Airport (MCO).
Airport information: https://www.orlandoairports.net/
Airport ride information: https://www.orlandoairports.net/parking-transporta…
Airport rental car information: https://www.orlandoairports.net/parking-transportation/rental-cars/
Uber: https://www.uber.com/
Lyft: https://www.lyft.com/rider
---
Meals:
Meals will be provided by the Pioneers catering staff as follows:
Tuesday, September 17: lunch and dinner
Wednesday, September 18: lunch and dinner
Thursday, September 19: box lunch at conclusion of conference
Snacks and beverage service will also be available at breaks
*A gluten-free option is available at each meal, as is a salad bar. Beyond this, special dietary requests cannot be handled.
---
Schedule:
---
NOTE: All rates include the conference and meals only (Tuesday lunch and dinner, Wednesday lunch and dinner, Thursday lunch). Hotel and travel not included – see the Accommodations and Travel tabs on the registration page for partner hotels and other travel information.